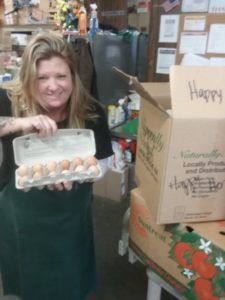 Happy Hens Eggs are on the shelves!
For weeks Callie has been boxing up old produce to feed our chicks.  Now it feels great to bring her 30 dozen fresh eggs for the dairy section at IGA Market in Chelan. 
We've also delivered to Red Apple in Manson, as well as Blueberry Hills, also in Manson.  And next week we'll be taking eggs to Lone Pine Fruit Stand and Coffee Shop on the Orondo side of the Columbia River. These are the places Dawn delivered eggs during her years of keeping her Happy Hen flock.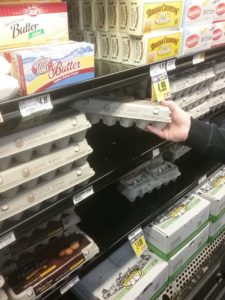 We're raising more baby chicks through this spring and summer.. When they start laying in six months we'll also be delivering eggs to Bear Foods Market and to Holden Village.  We'll also start delivering to restaurants, including Lake Chelan Artisan Bakery and  Riverwalk Inn.
In a sign of how good these eggs taste – friends were visiting from Fairbanks – and when they flew home they hand carried a dozen eggs during the whole flight.  Anne and I are getting so much enjoyment tending our chicken flock – and now we're feeling satisfied to be able to share this bounty here in the Lake Chelan Valley.